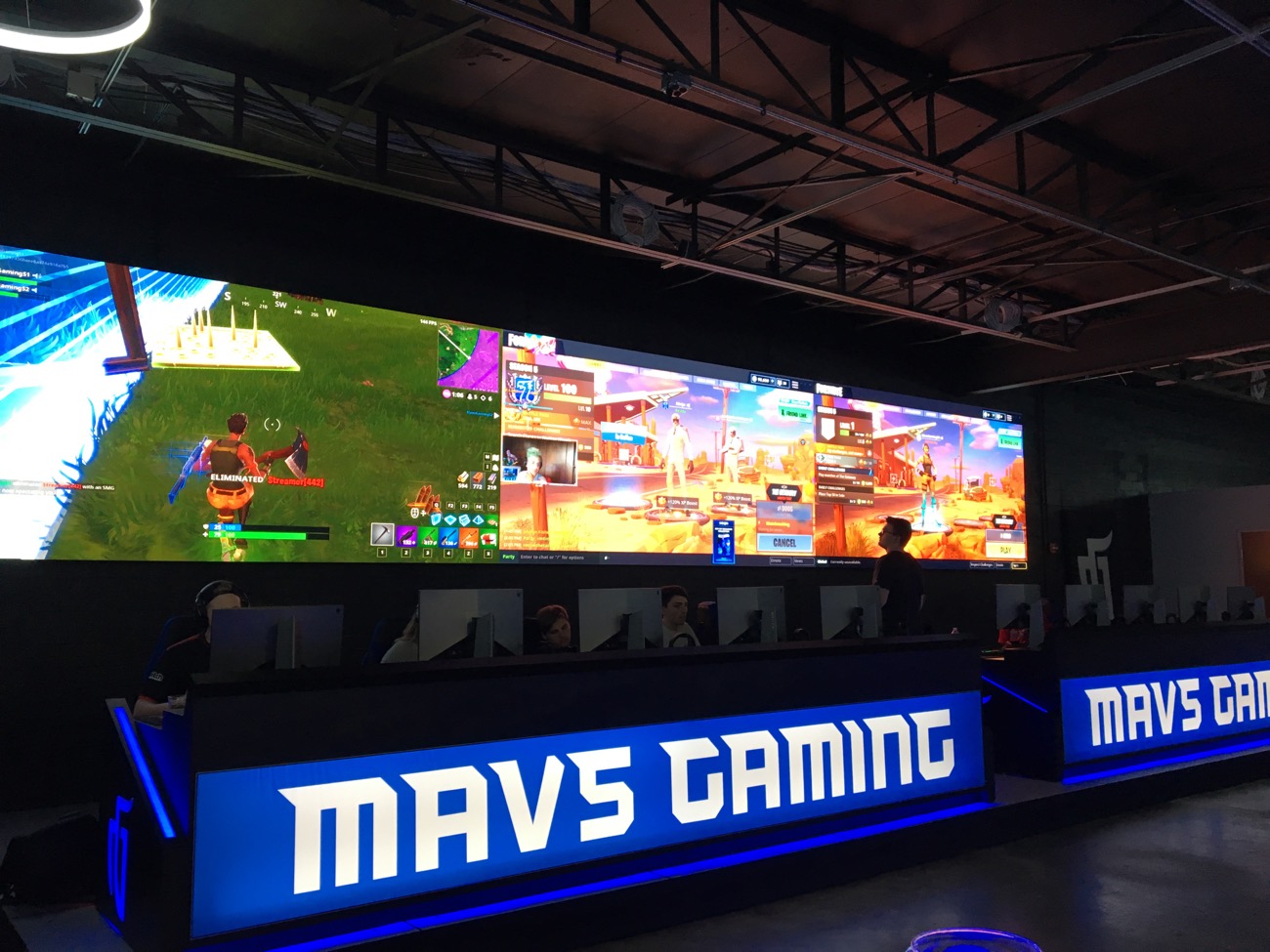 Photos by Danielle Abril
Mavs Gaming's new facility will extend beyond esports
By Danielle Abril

September 10, 2018, 9:04 a.m.
Mavs Gaming, the NBA 2K League team owned by the Dallas Mavericks, showed off its new 12,000-square-foot facility at a grand opening on Sept. 6. Though the spotlight was on the new digs and team, which is one of 17 to enter the league in its first year, the Mavs organization wanted to make one thing clear: This Mavs Gaming Pavilion is not just for gamers; it's for the community.
"It will host concerts, watch parties, and we'll explore other community opportunities," said Trey Christenson, director of esports and Mavs Gaming. "We want people in Dallas to have [another] reason to come to Deep Ellum."
Christenson, who arrived in Dallas from Kentucky on July 23, said that he's spoken to charities both national and local as well as other community groups about hosting events in the space. He also said the facility could host other gaming events for the community like tournaments for enthusiasts of Fortnite, a battle game released by Epic Games that was being played during the grand opening.
The facility, which up until October 2017 served as the headquarters for the Dallas Mavericks organization, will be primarily used as a venue for the Mavs Gaming team to practice for off-site tournaments and for Mavs Gaming watch parties. It is equipped with a locker room, which looks quite similar to an athletic locker room, large meeting space, and a room that looks like a basketball court but is stocked with numerous gaming stations. Screens are stationed throughout the entire facility. It also has a media room that allows the organization to film promotional videos.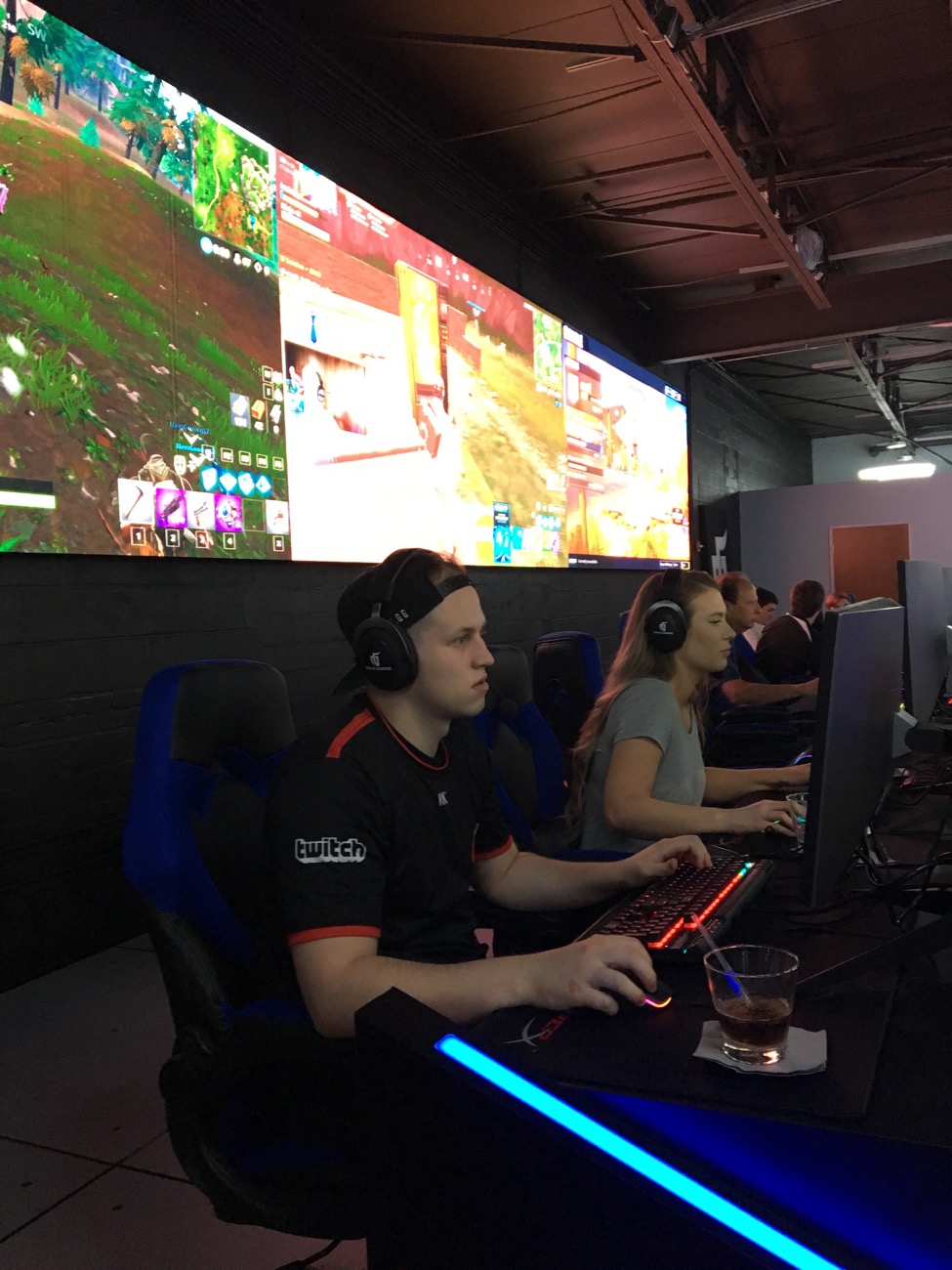 A gamer plays Fortnite at the Mavs Gaming Pavilion grand opening.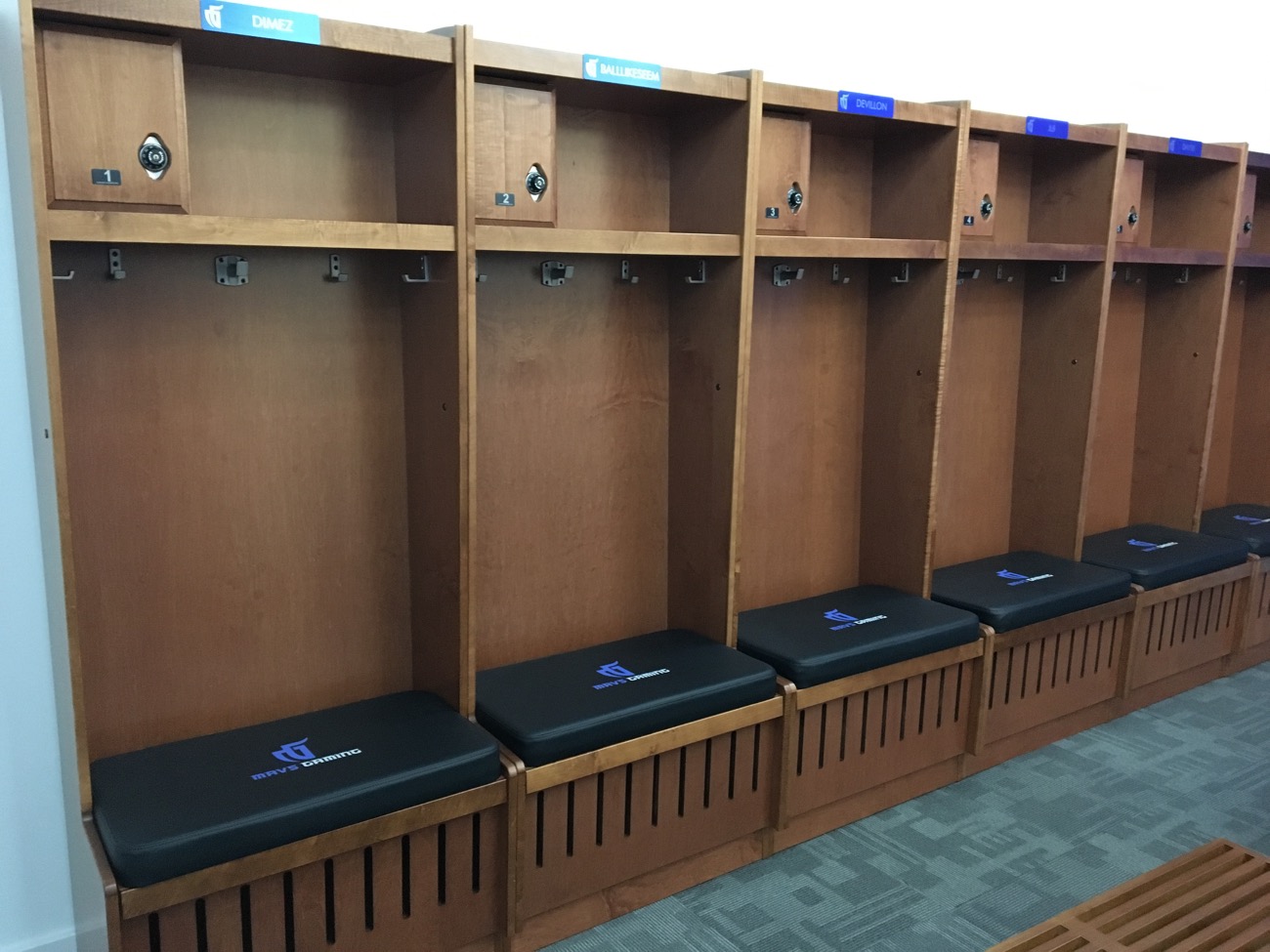 The Mavs Gaming locker room.
This year's season began in March with the draft and ran through August. Christenson suggested that there would be many opportunities between practices and during the off season for local organizations to use the facility as event space.
The Mavs Gaming team just finished its season last month. The team, comprising six players, did not make the playoffs this year. Four of the team's players were released as free agents. The remaining two players are 21-year-old Ryan Conger, known as Dayfri, and 24-year-old Artreyo Boyd, known as Dimez. The Mavs Gaming players are salaried employees who live in apartments provided by the Dallas Mavericks.
The two returning players appeared at the grand opening alongside Christenson and Mavericks executives including Chief Financial Officer Ronnie Fauss and CEO Cynt Marshall, who mingled with guests, high-fived her star esports players, and even danced to Mavs DJ Poizon Ivy.
"We are excited to be a part of the esports community," Marshall said at the opening before congratulating the players on their first season. "We are excited not just about this facility, but for what … the NBA has planned for next year."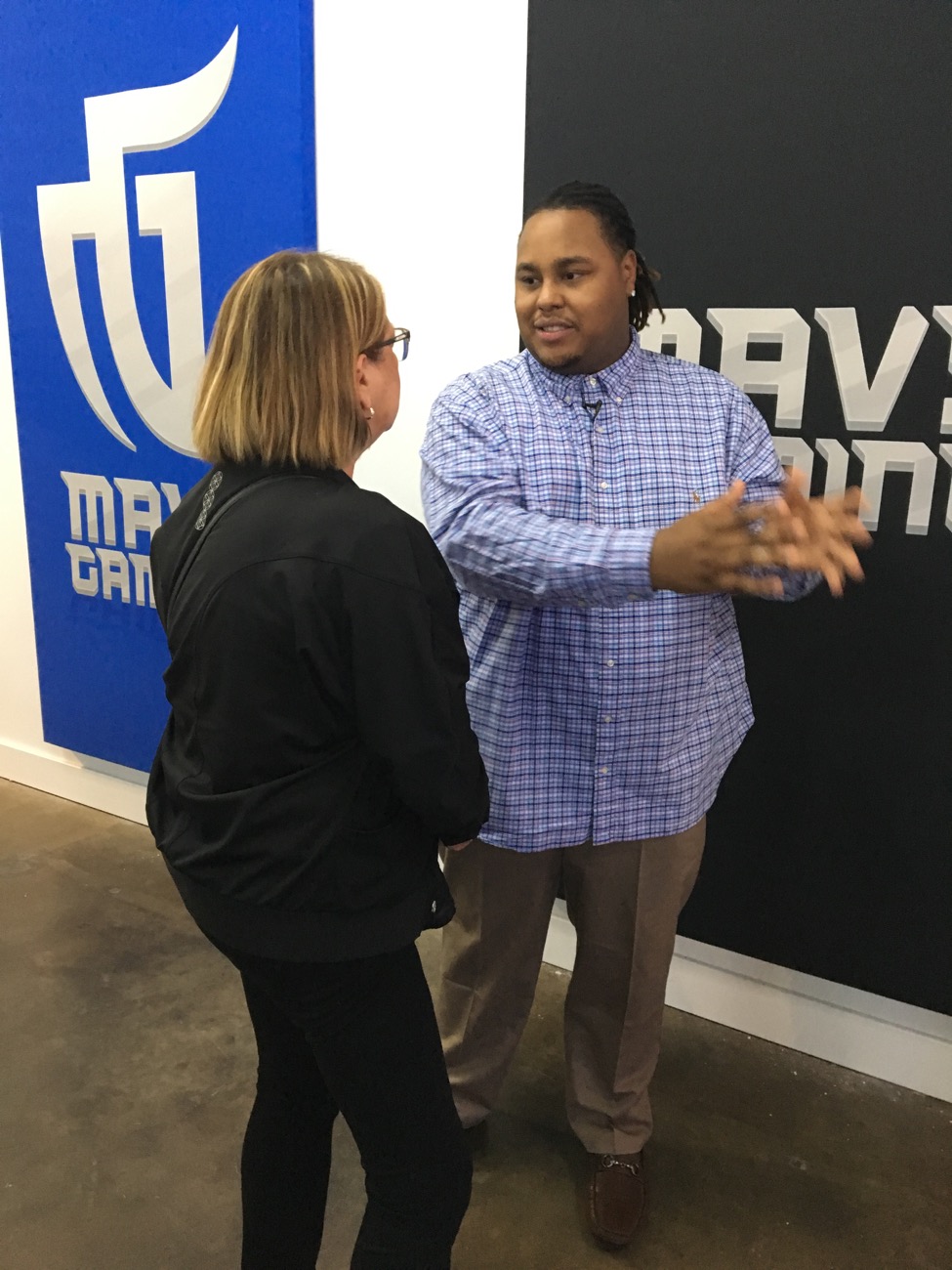 Dimez talks to a guest at the grand opening of the pavilion.
Dimez, who has played professionally for 10 years, enjoyed his first year in Dallas. The player, who hails from Cleveland, said he'll never forget this year's draft and the very special call he received. "I'm sitting in this crowd waiting to be drafted, and Mark Cuban calls me on my phone," he said. "I missed the call because I had it on mute. I get a text's that's like, 'Answer your phone, dude, it's Mark!'" Cuban did not make it to the grand opening, but Marshall thanked him for supporting and launching the Mavs Gaming arm of the organization at the end of her speech. Other teams that participated in the NBA 2K League's inaugural season were Celtics Crossover Gaming, Warriors Gaming Squad, Heat Check Gaming, Magic Gaming, King Guard Gaming, Wizards District Gaming, Cavs Legion Gaming Club, Pacers Gaming, Bucks Gaming, 76ers Gaming Club, Raptors Uprising Gaming Club, Pistons Gaming Team, Grizz Gaming, Knicks Gaming, Blazers Gaming and Jazz Gaming.